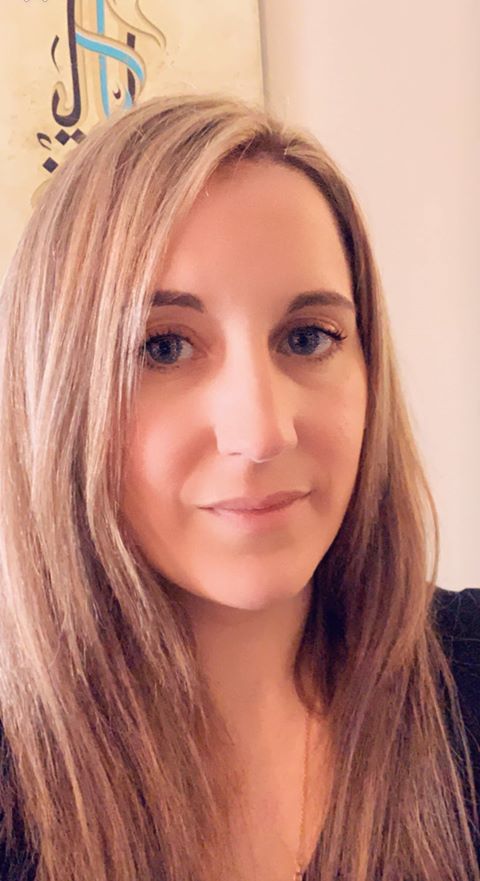 Catherine Shakdam, my guest this week,is a geopolitical analyst and commentator on the Middle East with a special focus on Yemen and the Gulf countries, and was recently named head of the Yemen Unit at the Next Century Foundation in the UK. She writes for Citizen Truth, New Eastern Outlook, Huffington Post, the website of Ayatollah Ali Khamenei, and the Katehon think tank, among others.  She is the author of a number of books including "A Tale of Grand Resistance: Yemen, the Wahhabi, and the House of Saud", "Arabia's Rising: Under The Banner of the First Imam", and "From Mecca to the plain of Karbala".  Her website is http://www.catherine-shakdam.com/
In this broadcast, we discuss her recent article "How Yemen's War Stands to Redefine the Region's Future" in New Eastern Outlook.
Since the topics we discussed are complex, I am providing a full transcript below.
Charles:
Catherine, you've just taken a new position at the Next Century Foundation. Maybe you can tell us a little bit about the foundation and what your role is there
Catherine:
Sure. The Next Century Foundation is essentially a peace building organization. So we are a think tank, and we are particularly interested in curating good and healthy relationship between different actors in the Middle East, but not just the Middle East , some of our interests extend to Africa, and I'm serving as the head of the Yemen unit. 
We have launched a peace initiative recently, and what we're trying to do, because people tend to get a little bit confused when I say peace initiative, they just assume that we have those ambitions, thinking that we can actually broker peace in Yemen and bring everybody to the table. That is not what we are trying to do. What we're trying to do is act as a soundboard for all the different local and regional actors. 
The team and the think tank in general has enough gravitas and enough connections across the Middle East to force certain conversations, and maybe gently nudge people to look at the conflict a bit differently, and to act as advisors as well, to try to find some kind of common ground and some consensus as to what needs to happen in Yemen in order to not launch the region into complete disarray. 
If there is a consensus about one thing, it is that things cannot continue as they are, and if they do, we will face hell. And when I say we, I mean not just the immediate region, but the international community because Yemen is a very sensitive country by its geography. And if we don't want to see a repeat of Afghanistan, Libya or potentially something worse, we need to really get things together now. The humanitarian catastrophe is just one of the areas where we could see things devolve quite rapidly into an ugly, ugly vacuum of we don't know what, and I don't like not knowing what could happen when it comes to politics.
We try to avoid black swans, and I think that Yemen is fast becoming one. We don't want to get suddenly blindsided and then say, "Oops, we didn't see that coming". So this is what we are trying to do. We're trying to reassess the situation differently in that we're trying to look at Yemen not from the who's right/who's wrong perspective, but rather how can we make sure that all the parties get something and that the people are offered a good future. We want to be there for the Yemenis, not so much for their political parties or the various factions involved in this war. We want Yemen to get a chance at being reconstructed and people getting out of poverty and away from the humanitarian crisis they're facing right now. This is our view because we don't want to be political. We don't want to defend one party or the other. We just want Yemen to be offered the chance to decide what it wants for its future.
Charles:
Excellent. I want to get back to that a little bit later, but certainly Yemen is in the news. Of course, the latest thing is this bombing of a Saudi Aramco facility that's in the empty quarter of Saudi Arabia. So we have the rebels in Yemen saying that they are responsible. We have the US saying that Iran is responsible and of course, Iran says is not responsible. What's your take on this particular event and what is going on?
Catherine:
I need to back up a little bit. If you recall, this is not the first time that the Houthis have claimed an attack on Saudi Arabia, or even on the Emirates for that matter. A few weeks ago, they, there was an attack launched against Saudi Arabia and the Houthis claimed it as well. There were rumors that this attack actually came from Iraq, from one of the PMU bases in Iraq. As you know, the PMU has supported the Houthis, if not directly, at least ideologically
Charles:
PMU stands for Popular Mobilization Units.
Catherine:
The ones that were created by Ali Sistani. So ideologically, they are in line with the Houthis in that they do not like foreign boots on the ground. They do not like idea of Saudi Arabia promoting any form of terrorism, whether by way of it's war coalition or using ISIS or al-Qaida elements, etc. It's not difficult to imagine that there would be an alliance of sorts between the PMU and the Houthis because essentially they are quite similar outfits. I mean, they are militia-ish even though now they have become somewhat legitimized by just being on the ground. 
So given that there were precedents when it comes to such attacks,a lot of people are now saying that this particular attack actually came from Iraq and not from Iran. Now some other people have argued that it came from Iran, but that it came from Iran without the direct knowledge of the regime and that it could be that there are various factions within Iran and Iraq who are not particularly in alignment with what Tehran is doing and saying right now in terms of its foreign policy and how it wants to weigh in on the Yemen conflict against Saudi Arabia. 
There have been different rumors, but I will say this and I think it's of importance, is that only a few weeks ago the Israelis conducted a series of attacks against the PMU bases. Now you know very well that Saudi Arabia is acting as a buffer and almost a client state to Israel. So it's interesting to see that now Israel is actually looking not at Iran so much or even Yemen, but actually looking at Iraq and the PMU in particular as its next most immediate existential threats.
So I just found it interesting that there's somehow a little bit of a shift. It's a possibility that other players are coming into the Yemeni war theater and maybe the Saudis did not plan on coming in to this equation. So all I'm saying is that I could well be wrong, but Iran said they didn't and they don't have a problem taking ownership of what they do. So I would take their word for it. That being said, it's very possible that a rogue element within the regime decided to act to force their hand. Iran has it's war hawks as well. America is not the only one. There are various scenarios that we need to consider, but I wouldn't jump to conclusions too quickly.
Charles:
No. I heard Professor Mohammad Morandi speaking from Tehran on RT the other day making the point that the US has very major defense installations all through Iraq and in the Gulf states that one would assume would have intercepted anything coming from the direction of Iran. There were apparently Patriot missile batteries near the site of the bombing, but from whatever direction this came, it got through, which is ...
Catherine:
It's interesting isn't it? Because bear in mind that the Saudis have literally spent billions and billions and billions of dollars to be made safe within their borders. And Aramco is a very strategic place that they need to protect. It is a matter of national survival for them. This is their bread and butter. So the idea that drone could actually hit and not miss is actually somewhat troubling to me. And again, we need to ask the question. It's not so much as to who fired as to who would benefit from either an escalation or a disintegration of Saudi Arabia's sovereignty because an attack on Aramco is an attack on Saudi Arabia's sovereignty and Mohammed bin Salmon's direct authority because this is an extension of his power. Without the oil, he has nothing.
Charles:
Right, and there are probably quite a number of elements who would like to see his power diminished.
Catherine:
Well, yes. America could be playing Riyadh and and saying, "Oh look, this could happen, you do need to spend more money". Orit could be that someone somewhere wants to weaken Saudi Arabia, or it could be America saying she's done with Saudi Arabia and thinking, well we milked you for all you got. Maybe we want to make new friends in the region. I don't know. 
Everything is possible when it comes to Donald Trump. I mean, he's not exactly very loyal to his friendships or even to the treaty that he's predicted to sign anyway. So I think anything goes right now, which is very dangerous because it's very difficult to predict what's going to happen or who did what, or on whose authority.
Charles:
I think one of the things that our government certainly is saying is that the Yemeni group - and maybe we should stop for a moment right here. As to the nature of the group in Yemen that is doing the fighting here, the western press tends to call them either the Houthis or more likely the Iran-backed Houthi rebels or something of that nature.
Catherine:
That actually infuriates me because if you want to be precise, and I understand that people want to cast a shade against your Iran and say they funded those militias in those groups across the region and they're fomenting instability. Iran is not funding them. And I mean they are not funding the Houthis for one very simple reason, they don't have the money for it. They are under sanctions, they are suffering greatly within their own borders. It doesn't make any sense whatsoever for them to fund a war in Yemen or any kind of war effort in Yemen when Yemen is not even sharing a border with them. 
So if you're talking for example about Iraq, I would say yes, if you're talking about Syria, I would say yes, because it makes sense from a strategic perspective. Yemen doesn't make sense for Iran in the immediate term. And bear in mind that Iran's economy has shrunk so much that they really can't afford any kind of frivolity right now and Yemen's war would be classified under frivolity as far as the Iranian government is concerned. 
Right now I think Iran is more concerned about feeding its people and ensuring that they don't end up with some kind of an unrest on their hands because people are going hungry, than actually playing with the Houthis. By the way, anyone who knows anything about Yemen, will tell you that the second you start pumping money into that country, it disappears into black holes. Yemen is really not an easy country to handle even if you have a good relationship with people there, because there's so much corruption. There are so many entanglements between the tribes and the religious factions and the political factions and the military and so on. It's very complicated and very, very expensive. And I don't think that the Iranians have time for it. So if you want to call them something, call them rebels if you want to. They're not, but you can call them that. But they're not Iran funded or Iranian backed at all.
Charles:
And they are at this point, the de facto government of at least part of Yemen.
Catherine:
Exactly and so they might want to change the adjective that they're using. The thing is the Houthis are not even technically in charge of everything. It's a coalition government. So what you have is a resistance movement within which you have the Houthis and you have -- I mean, look, if you look at the war, the war has lasted for four years now. It would be ridiculous to think that the Houthi who by the way account for about two to five thousand men tops because they're from one city inside the northern province of Yemen. There are not that many. They're not even a tribe technically, they're just a movement,okay? They have about five thousand fighters. So you're telling me that five thousand people for four years have managed to push against several military super powers, including Saudi Arabia?
Come on. They were helped by the military in Yemen, which is by the way, loyal to the former president, Ali Abdullah Saleh. They aren't exactly pro-Houthi they just understand that they have to align themselves with the Houthis right now because they need all the help they can get to prevent foreign boots to bridge into their country. So it's really just an act of self defense and you have various factions who maybe don't like each other very much. but who right now have to make do because someone is batting them on the head. So they have to be friends right now. But people need to stop thinking that this war in Yemen is being led by the Houthis, they are just part of it. But it's easier again for the media to demonize an entire country by saying, "Oh, the bad Shi'a rebel Houthis, who are backed by the bad, bad Iran people". No, it's not the case and it's, trust me, there's not even one Iranian boot on the ground in Yemen, you would like to think that they would send a few just to keep an eye on their interest. I mean, they've done it in Syria and in Iraq. Why not in Yemen? If they are in fact there but they're not! Otherwise trust me, you would have pictures everywhere of Iranian generals leading the show and the Saudis would say see, see we told you they were there. They're not there. People need to get over it.
Charles:
Exactly. We don't hear that at all in the western press at this point.
Catherine:
Because they don't know Yemen. I'm not berating the journalists, but they need to do a bit more research when they cover Yemen. Yemen is complicated. I mean, take the time to research the country for God's sake before you start slapping adjectives on people.
Charles:
Right. I think they just take the State Department press releases.
Catherine:
In this case, if they want it to be balanced, then when they talk about President Hadi, for example, they should say "Former undemocratically elected Sunni-borderline-Wahabi president who resigned twice then ran away from his country to ask a foreign power to declare war on his people." - if you want it to be accurate. And I don't see anyone saying stuff like that. When they talk about the Saudis, do they say "The Wahhabi regime of Saudi Arabia"? No. So why do they have to say "the rebels",the "Shi'a fighters". Let's be balanced. Why don't you call them for what they are as well. If you want to do the sectarian game, play to the end.
Charles:
Great. Only this morning, I read an article of yours in the New Eastern Outlook. In that article you said that Yemen's war is now precipitating a profound geopolitical shift in the region. So maybe you can expound on that a little bit.
Catherine:
Well, it's complicated. But I'm going back to what I was saying about the Iraqis having entered the war theater. And you need to understand that when we talk about the Middle East, we have to talk about the Islamic World, and when we talk about the Islamic world, we need to understand that there are various schools of thoughts within Islam, and that those schools of thought have been in competition with one another for centuries. And this is not something that's going to go away anytime soon. And for people who say that, oh, it doesn't really matter, people love each other and respect each other, it's simply not true. People are competing for power. And we know it to be true,that people, including clerics will use religion as a means to gain more power and to justify their actions.
For the longest time, the Shi'ite Islamic world has been oppressed and its voice repressed by the Sunni world. This is not an accusation. This is just a historical fact, and that has been the case for centuries and centuries, 1,500 years, more or less, during which Shi'a have been systematically oppressed and they were never really given any political platform of their own. Now the war in Iraq changed that dramatically because suddenly this silent majority, the Shi'a majority in Iraq was suddenly given a platform and they formed a political polity and not they run the country but they are part of the government and they are a very heavy part of the government by the demographic of Iraq. And I think that the little movements that started in Lebanon with Hezbollah, for example, resistance movements that were essentially created on the back of Iran's 1979 revolution ,who were following a very revolutionary ideal. Ayatollah Khomeini was basically telling people that they had to resist any form of oppression, whether foreign or national oppression by their leaders, to embrace political self-determination and decide what is it that they wanted for themselves.
He molded his political thoughts on Shi'a Islam and that gave in Iran the governance of the jurists. Now we know that this model of governance cannot be exported anywhere else but Iran, for the very simple reason that you need to have a very large majority Shi'a population for this form of government to even work or even be accepted by the people. So you could not do this, for example, in Lebanon, you cannot do this in Syria. You cannot do this in Yemen, you cannot do this in Iraq. And I think that everyone understands that. So when people were saying Iran is trying to export its revolution - No! It was trying to export an ideal , a political ideal that can then take any shape or form depending on the country's history and demographics. 
Now, and this is important, in Iraq, right about the same time as Ayatollah Khomeini was formulating his system of governance, it was Sayyid Muhammad Baqir al-Sadr who came up with something called Wilayat al Umma, which is the governance of the people. So rather than have the governance of the jurists, he wanted the people to have sovereignty. He wanted the source of power to come from the people. And that formula was adopted by the Da'wah party in Iraq. The Da'wah party was very largely funded by Iran at the very beginning in the 1970s. For obvious reasons, Iran was not particularly friendly to Saddam Hussein and Iran was more than happy to try to boost Shi'a revival movements next door because, there was this sense of brotherhood almost. I mean they wanted to help shape Shi'a political thought. They started off as friends, but naturally things evolve, things change. You could be friend on Monday and then on Friday you're going to be not enemies, but you're going to be competing for space.You're gonna be competing for power. 
And I think the Da'wah party now is looking to stamp its own political thought, not just in Iraq but across the Middle East because it can export its ideology. Something that Iran cannot do because of the nature of the system of governance that it's promoting. You can promote the governance of the people more easily than that of the jurists because that would imply that the entire state has to be absolutely Shi'a. With Wilayat al Umma, it's a very different political formula. So that could be adapted to a great many different countries in the Middle East, and I think this is why Yemen has become so important because Yemen does not want to have an Iranian model. However, now it's paying attention to the Iraqi model because it's thinking, okay,that we could do. And of course as far as the Da'wah party is concerned, that would be a tremendous, tremendous win.
Bear in mind as well, the Da'wah party is quite close to the Ayatollah Sistani camp. And I don't know if you're familiar with the way that Shi'a Islam is organized, but you have Maraji, which are the equivalent of the pope and each Maraji gives his own religious jurisprudence that people may choose to abide by and follow. So it's almost an allegiance that people make to a particular cleric saying, I'm going to follow you and whatever religious edicts that you're going to issue. I'm going to listen to you and only you. Now if you look, we have about 300 million Shi'a Muslims across the world spread out everywhere. About 70% of those follow Ayatollah Sistani. They do not follow Ayatollah Khamenei. Ayatollah Khamenei is the head of state of Iran and within Iran itself, you actually have a majority of Iranians following Ayatollah Sistani for their religious advice as opposed to Ayatollah Khamenei.
So Ayatollah Sistani has much more power religiously speaking in numbers than Ayatollah Khamenei, and I think that this is giving a few people a few ideas because they are thinking, there is one top power here. And you have to understand that generally speaking, there is competition between the Sunni world and the Shi'a world. I'm not saying that they're trying to start a war because I don't think that's what they're trying to do. What they're trying to do is to operate, to shift -- for centuries that they were told to shut up and be quiet and not move and be oppressed and like it because nothing's going to change. Now they want to have a say in what happens in the region and create a network that will immobilize the likes of Saudi Arabia because if you look at Pakistan and India for example, there are more Shi'a Muslims in India than there are in Iran, and those Shi'a Muslims follow Ayatollah Sistani and no one else.
So it's interesting to see that Najaf could potentially wield something like 100 million people to its name, which is not negligible. Those are big numbers. I think that we need to take this into account when we look at the way that Yemen is going or when we look at how allegiances are being re-formed in Lebanon, in Syria, in Iraq through the PMU .You have suddenly those little bubbles of militias being formed here and there. And those little bubbles are coming together and they're forming bigger bubbles. And I think, and I actually wrote this years ago, that we are seeing before our eyes, the formation of the pan-Arab-Shi'a-Islamic revival movement. Something similar to what we saw in the 1950's with Abdul Nassar, where it was born in Egypt but exported everywhere in the Middle East. And it was a very powerful movement. I think we see these being created from Najaf and not from Tehran, which is interesting again, because everybody is barking at Tehran and Tehran is not doing anything. Tehran is actually trying to stabilize the region and grow its economy. It doesn't need more territory. It doesn't need to have more political influence other than that it needs to protect itself in order to prevent any potential war or attempt to destroy its government.
Charles:
Well, I know it's complicated, but I think what you're saying here is, let's try to paraphrase this, kind of a loose alliance of Shi'a Muslim groups throughout the region that are beginning to put pressure on the Sunni groups that have been oppressing them, particularly at the Saudis, I would assume.
Catherine:
Yes. But it's not religious pressure per se. Those Shi'a communities are formulating their own political thoughts. It's coming from a place where they identify as a religious oppressed minority within the Islamic word , and they're slowly organizing themselves as a political force in order to compete against the likes of Saudi Arabia, the Gulf countries and everything. And you also need to bear in mind that, for better or for worse, often for worse, natural resources happen to be sitting under Shi'a communities across the Middle East. Qatif in Saudi Arabia is majority Shi'a and this is where the oil is, this is where Aramco is, this is what was attacked. North Yemen for example, is Shi'a territory and you know, guess what, this is why they wanted to invade it. I mean, Bahrain, all of these different countries. 
And it's interesting because I'm thinking that there is a lot that is now coming to the surface because of religious subsets because of the fact that for many centuries they were politically silenced. And so they never really had time to think politically. Now they have this wealth that they are literally sitting on and they're thinking, why should we allow other people to take advantage of it or why should we be exploited? Why can't we take charge for once? So I think that all this is coming together and I do really think that Yemen exploded that because Yemen resisted. And so it gave people an idea thinking, well, if they can do it, why can't we gang up with this resistance movement that is standing up to Saudi Arabia and doing it so well? It's like vultures circling Saudi Arabia.
The Saudis have left themselves completely exposed because of Yemen. And I think that the cracks that are starting to appear are being exploited by other actors, and not necessarily, as everyone seems to be thinking, Iran. I don't really think that Iran has anything to do with it because it's not in its immediate interest or not even long-term interest. It's not interested. Iran is not a colonial power. It doesn't need to be.
Charles:
That's true. Yeah. I think the colonial power that's sticking its nose in here, other than Israel, of course, is the United States. I think perhaps if we would reduce the number of western actors involved in this, we might come to some resolution a little quicker.
Catherine:
Well, yeah, that's true. I had an interesting conversation this week with different people and I don't think that the Saudis are stupid. I think they understand that Yemen has become a very real problem for them. But they cannot change course and they will not change course until Washington tells them to, that's the problem. Because Saudi Arabia is owned. I don't think it has any real independent policy. I'm always the first one to blame Saudi Arabia when it comes to the atrocities that they committing. That being said, even though they are pulling the trigger, again decisions are not being made in Riyadh, they are being made in Washington. And so I tend to think that actually the Saudis will be the next victim. I mean, they are in a way victims here as well. This is not to take away from the horror that they're doing. I'm not excusing them in any way, shape or form. I'm just saying that again, I think we are barking at the wrong tree asking the Saudis to stop. They won't stop until the Washington says, yes, you can stop now. So I think they stuck as well.
Charles:
Well, I wish we had more time to talk but we're already probably a little over the time limit, and again, I always appreciate having you on the show.
Catherine:
Always a pleasure. Whenever you want. I'm always willing to talk.
Charles:
That's wonderful. Thank you.