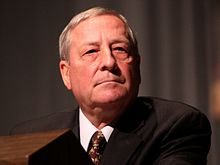 Philip Giraldi is Executive Director of the Council for the National Interest, which describes its mission as seeking "...to encourage and promote a U.S. foreign policy in the Middle East that is consistent with American values, protects our national interests, and contributes to a just solution of the Arab-Israeli conflict. It is CNIs goal to restore a political environment in America in which voters and their elected officials are free from the undue influence and pressure of foreign countries and their partisans."
Philip is a former CIA counter-terrorism specialist and military intelligence officer with a PhD from the University of London in European History. He has been a security analyst and consultant as well as a speaker and writer since leaving the agency in 1992. He is also a founding member of Veteran Intelligence Professionals for Sanity.
Philip Giraldi's articles can also be found at unz.com, and he is regularly interviewed by foreign news agencies - unfortunately not by US corporate media.